---
Re-soldering the Broken Power Connector on a 2002 Dell Laptop
So I made this page because I keep hearing about these loose laptop power connectors. The power plugs seem to be a common problem, and they are not impossible to fix. Here is my success story, I hope you find it to be a useful reference.
USE THE INFORMATION AND DIRECTIONS ON THIS PAGE AT YOUR OWN RISK. I DO NOT WARRANT THIS INFORMATION AND WILL NOT BE LIABLE FOR THE OUTCOMES OF USING THIS INFORMATION.
Symptoms:
Laptop battery charge light would flicker, eventually it did not work at all. The laptop was not getting power. Eventually the notebook ran out of power and was unusable.
Further Investigation:
We disassembled the laptop according to Dell's directions, which they kindly provide online. We wanted to remove the mainboard to examine it. There were some pieces we had to really wiggle to get to come apart. Also, they say to remove the RAM DIMMS and the CPU and heatsink, but we left those on with no problem.
Below, we discovered that at the point where the power connector was soldered to the bottom of the mainboard, one of the connections looked somewhat funny and blackened. This is the "bad solder joint" below.
I used my multimeter to measure the resistance from each pin inside the power plug, to the corresponding pin sticking through the circuit board. (About 0.1 Ohms each). However, that was really just measuring two ends of the same piece of metal, since it goes all the way through. Examining the suspicious-looking bad connection, I noticed an obvious circuit trace going to a nearby component. Using it's lead as a test point (see image above), I meansured the resistance from the connector plug pin. 4.9 Ohms! This is much higher than a good connection should be.
Repairing the bad connection
To fix it, I got out my grounded micro-electronics soldering iron. To provide a better connection, I decided to expose some of the circuit trace by scraping off the green coating with the edge of a screwdriver. Below, you can see the bit of extra copper showing next to the lead.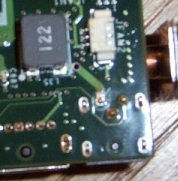 Next, I used the soldering iron to heat up the pin and the circuit lead at the connection, and then added solder, per good soldering technique. It turns out that my soldering iron was pretty wimpy and did not do a good job on the first try. (Something like 50 Ohms on the meter now!) On a second attempt, I was more patient, and used more solder. (Note, it is normal and desireable for some solder to get sucked into the pin's hole in the board.) Finally, my connection was about 0.1 Ohms on the multimeter. (It should actually have been 0.0 Ohms, but I think my meter's probes weren't making ideal connections...).
We reassembled the laptop, and voila! It worked!
Web Links
---
Read more computer-related articles
© 2002-2017 Greg Briggs except where attributed otherwise